Back to community news
The Town of Port McNeill expressed its appreciation to Western Forest Products for the Company's contribution of 2.4 acres of property to the town at its September 12 Council Meeting. The three parcels of land, centrally located on Cedar Street adjacent to Rotary Park, are intended to meet the evolving needs and aspirations of the town's population. Western representatives, Clint Cadwallader, General Manager Timberlands, and Brad McRae, Government Relations Director, joined Mayor Furney and Town Councillors for the land donation announcement at the meeting.
"The well-being of Port McNeill has always been enhanced by the contributions of the primary forest companies. Our town's wonderful infrastructure stretches well beyond what our population would determine. Among other things, we have a ski hill, airport, golf course, arenas, running tracks, ball fields; all soundly supported and made possible by the forest industry. This generous land contribution by Western Forest Products provides Port McNeill residents with future opportunities for public use as we shape our common future," said Mayor James Furney.
"We are happy to have worked with the Town to provide this piece of land for the benefit and enjoyment of all those who call Port McNeill home," said Clint Cadwallader, General Manager Timberlands for Western Forest Products. "Western is proud of the role we play in supporting communities on Vancouver Island. This contribution is one more way for Western to play an active role in the well-being of communities where we live and work."
Today's contribution continues the Company's long-term commitment towards investing in community needs in the areas where its employees live and work. Through Western's Community Enhancement Fund, the Company provides support to local community events, organizations and initiatives. Western takes pride in its contributions to sustainable and stable communities in the areas in which it operates, including through in-kind and monetary community contributions, the purchase of local goods and services, local
employment and taxes.
About Western Forest Products Inc.
Western is an integrated forest products company building a margin-focused log and lumber business to compete successfully in global softwood markets. With operations and employees located primarily on the coast of British Columbia and Washington State, Western is a premier supplier of high-value, specialty forest products to worldwide markets. Western has a lumber capacity in excess of 1.0 billion board feet from seven sawmills, as well as operates four remanufacturing facilities and two glulam manufacturing facilities. The Company sources timber from its private lands, long-term licenses, First Nations arrangements, and market purchases. Western supplements its production through a wholesale program providing customers with a comprehensive range of specialty products.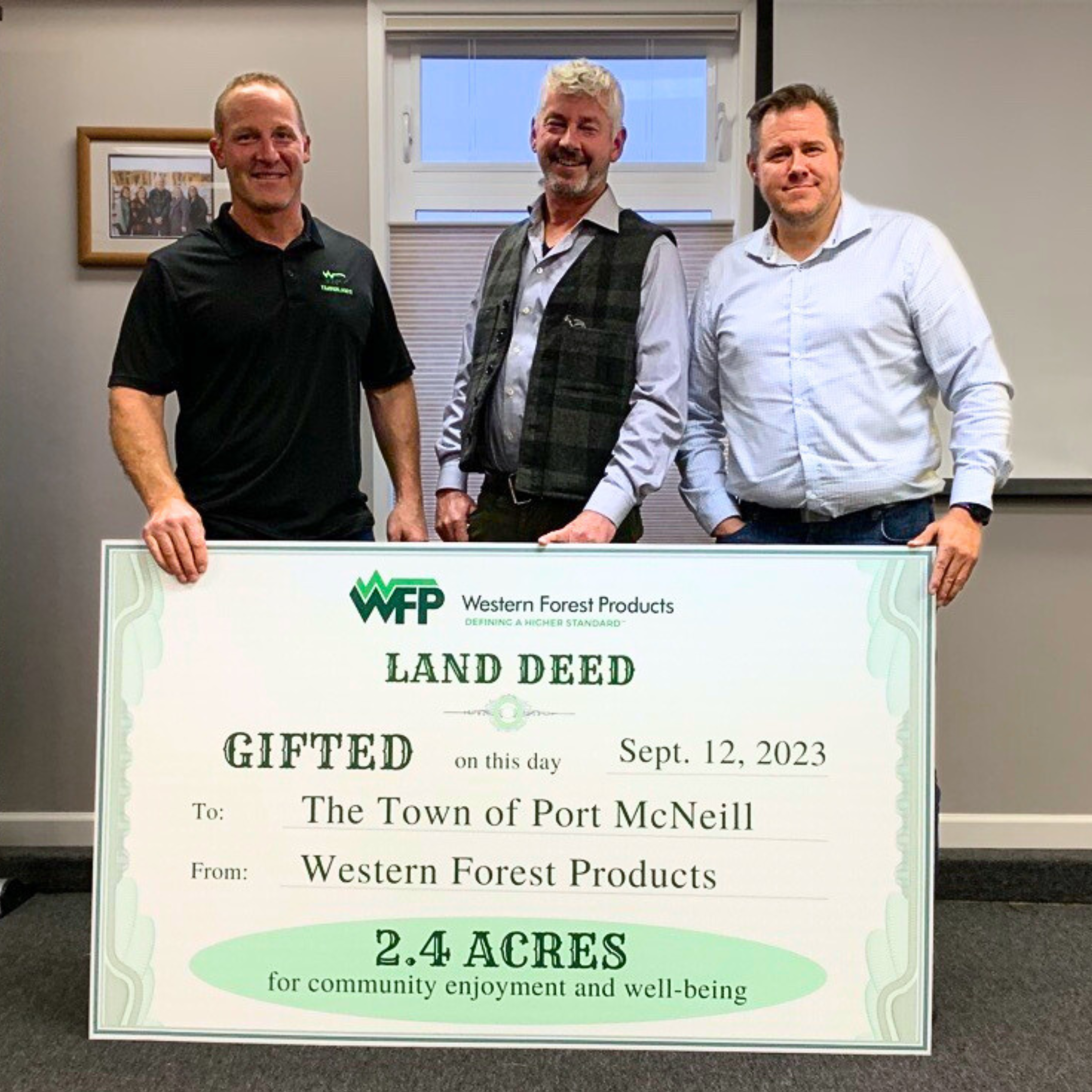 Left to right: Clint Cadwallader, General Manager Timberlands, Western Forest Products; Port McNeill Mayor James Furney; Brad McRae, Government Relations Director, Western Forest Products
Return to Top